As a wedding photographer, you have a lot on your plate, from packing all your gear, making sure your contract is signed, a shot list is established, and last but not least, picking your outfit! While your outfit may not be in the spotlight like the bride and groom, it is still important to choose something that is professional, comfy, and will allow for your needed activity during the big day.
What Should A Wedding Photographer Wear?
You have so many things to remember when photographing a wedding, so we have created a guide on how to put together your perfect wedding photographer outfit that is comfortable and helps you look like a professional. Keep reading to learn all about your options when it comes to your wedding day attire. 
1. Dress To Impress: Professional Is Best
When it comes to dressing for a wedding gig, it is important to look professional because when you look professional, you feel professional. First impressions are important. Even though you are just shooting one wedding, it has the potential to lead to other weddings – you never know which guest may be in need of a photographer in the future. 
Now when it comes to your attire, you should avoid anything that makes you stick out. Your job is to blend in and capture those once-in-a-lifetime moments. What you wear as a wedding photographer may include neutral-colored slacks, a practical blouse, a comfortable but sensible dress, and shoes that you can wear for hours on end with comfort, which leads to our next tip.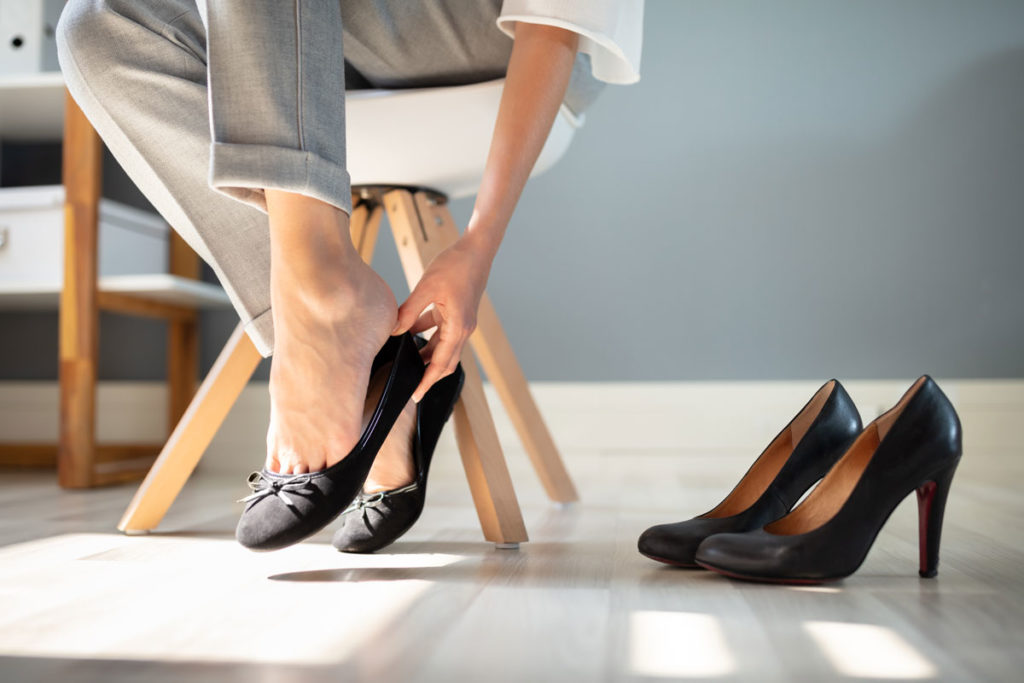 2. Comfy Shoes Are A Must-Have
As a wedding photographer, you will be on your feet for hours following the bridal party or chasing the ring bearer for that perfect shot. When it comes to your footwear for the day, it is important to choose something that is not only professional but comfortable as well. 
You never know where the day might take you, so make sure these shoes can get dirty in case you have to climb a ledge or step in a puddle in order to get a better angle. Here is a list of the best shoes for a wedding photographer that would be perfect for your next wedding shoot.
3. Avoid A Color-Wheel Faux Pas
As mentioned previously, it is important to blend into the background when you're a wedding photographer, so choosing clothing that is neutrally colored is a great idea. It is also key to not dress like a wedding guest. So instead of a fancy dress maybe opt for some comfy slacks in dark colors. You also want to avoid any bright colors or busy patterns. When in doubt, black is always a safe option. Double-check with the bride and groom on any colors they would like to avoid on the wedding day. You can also ask them in advance if they have specific recommendations for what to wear to best blend with the energy of their event.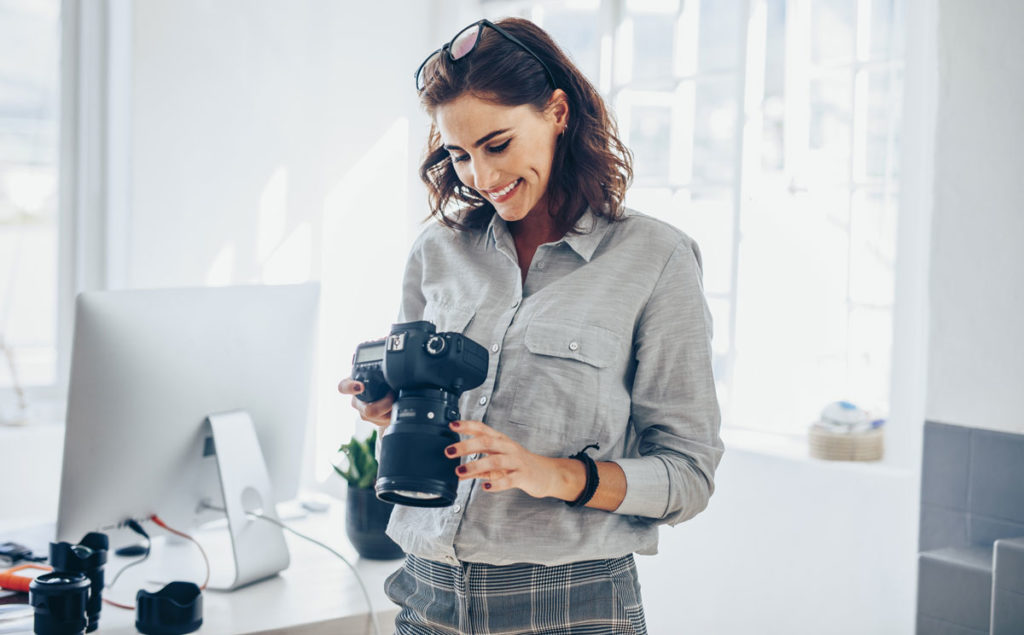 4. Consider Formal, Semi-Formal, Causal
The formality of the wedding may also influence your choice of attire. If it is a formal wedding, try going with a collared shirt and long skirt, or a nice but comfy blouse and slacks. If it is a semi-formal affair, try a knee-length dress or jumpsuit. For a casual wedding, a patterned T-shirt and nice pants would work. Staple pieces such as shirts in white, black, and gray are great to have in your closet and can help when building a work-appropriate outfit.
Male Wedding Photographer Outfits
The tips mentioned above are a great rule of thumb for any wedding photographer, male or female. But we also have a few male-specific wedding photographer outfit recommendations for what you can wear to look your best while on the job.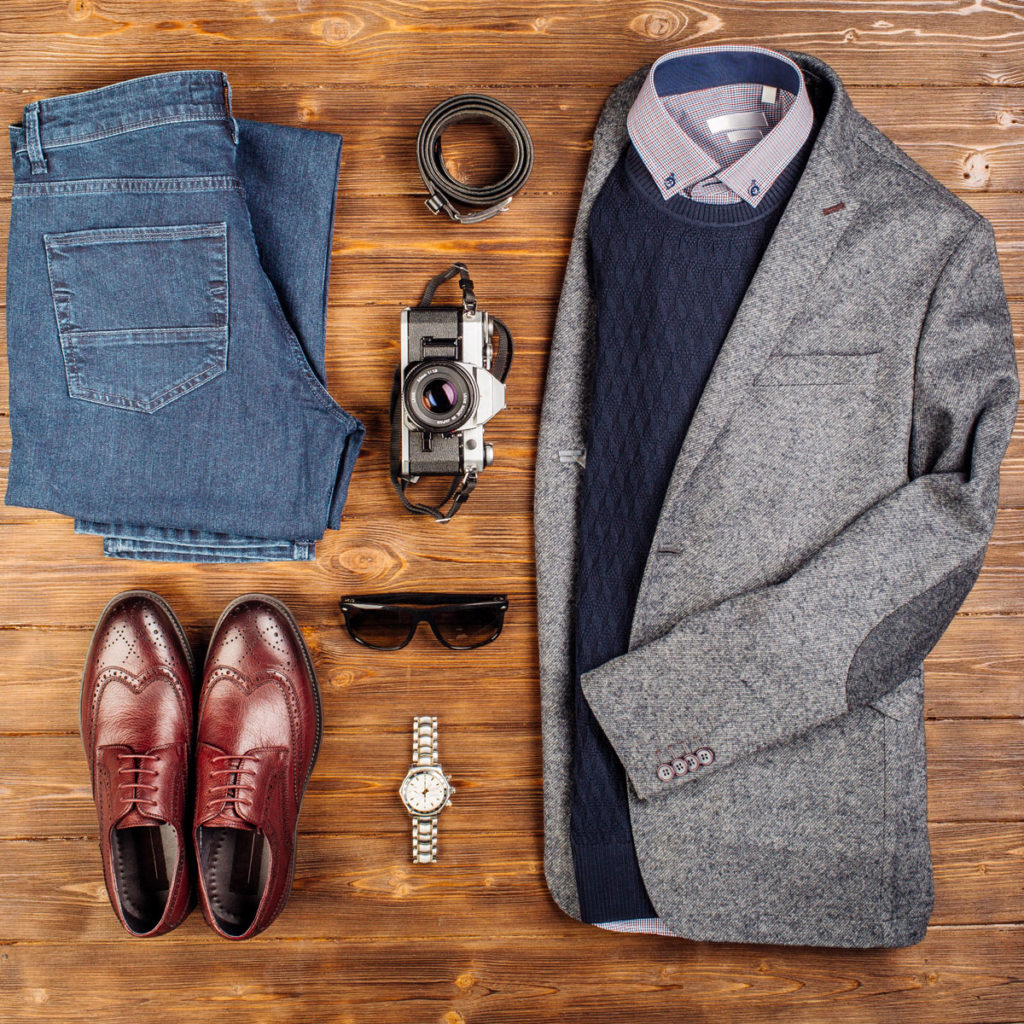 1. Slacks And A Button-down
This outfit is a great "go-to" when it comes to dressing for a wedding. With a number of color combinations, this outfit is perfect for blending in and looking professional. With newer fabrics on the market, you can even stay comfortable as you get that perfect shot.
Another rule of thumb when it comes to choosing your wedding photographer outfit is to choose clothes that fit well. This means forgoing baggy or too-tight clothing and opting for something that fits well. This also means choosing something that helps you feel confident and professional, while also allowing you to move and get the perfect shots!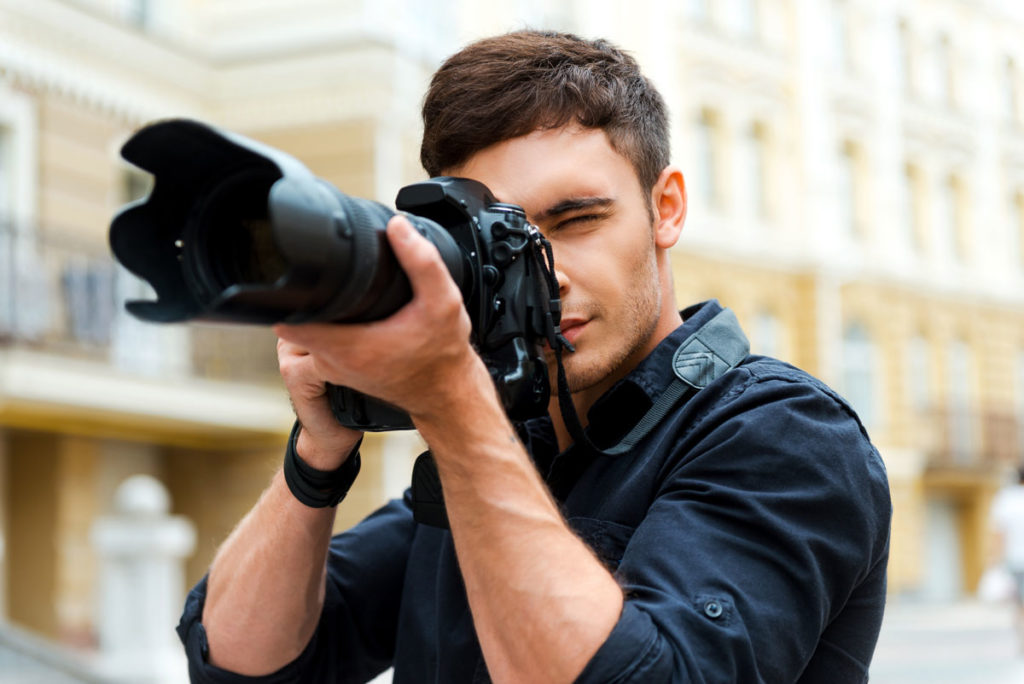 3. Stick To Darker Colors
As mentioned previously, it is important to blend into the scenery and not draw attention to yourself. For this reason, darker or neutral-colored clothing is a great option when it comes to dressing for a wedding.
Photographing a wedding can sometimes be an all-day affair, from sun up to sun down. So, it is important to stay comfortable and wear something that allows you to move and capture those once-in-a-lifetime moments. Your job as a photographer may take you climbing up onto higher ground to get a better angle of a large group or kneeling to get the couple highlighted by the sunset. 
Comfortable clothing is important, but comfortable shoes are even more so. Having tired and sore feet can quickly drain your energy so it is important to invest in a dependable pair of wedding job shoes. Keep in mind that your shoes may also get dirty standing in puddles, grass, spilled champagne, or dropped frosting from the couple's cake cutting. Here is a list of the best men's shoes that would be perfect for your next wedding shoot. 
Tips For A Successful Wedding Shoot
Now that you know what to wear as a wedding photographer, you may have more questions on what other tips you should follow to have a successful day photographing weddings. Check out this blog for more savvy tips on how to have a great day taking photos of your client's best day.
Dress to Impress, Insure To Protect
Making sure you are dressed to not only impress, but also get that perfect shot is an important part of your wedding photography business. Sensible shoes, comfortable pants, and a stylish yet professional shirt are some things to make sure you have when it comes to preparing for a wedding gig. However, your outfit isn't the only thing you need to prepare when it comes to getting ready to photograph a wedding.
Wedding Photographer Insurance
As a business owner, you are susceptible to many different risks that could lead to claims. If you don't have wedding photographer insurance you could be looking at paying thousands of dollars in out-of-pocket costs when a claim happens. 
Wedding photographer insurance from Full Frame could help protect you from the cost of claims as well as protect your expensive camera equipment. Full Frame offers three different policy options: Event, Annual, and Annual Plus.

This policy offers coverage for up to three days and includes general liability coverage and unlimited additional insureds. This is a great idea if you are just getting into wedding photography and want to test the waters. It is $59 for three days of coverage. 

This policy is $129 per year and is a great idea for a full-time professional. Our Annual policy has no deductible for general liability and has a general liability limit of up to $2M. You also have the option to add camera equipment coverage.

As our most recommended policy, the Annual Plus policy starts at $184 a year and includes general liability coverage, multiple camera equipment insurance options, extra policy options, increased limits, and unlimited additional insureds for just $30. 
As a wedding photographer, some claims you could face include a wedding guest tripping and injuring themselves on your lighting equipment, a faulty memory card losing all the photos from the ceremony, or your camera lens receiving water damage from an unexpected storm during a backyard reception. 
These claims are not only stressful but also expensive… if you don't have insurance. With Full Frame insurance, you could mitigate or even eliminate the out-of-pocket cost of these claims. 
Visit Full Frame today and find the wedding photography insurance that is picture-perfect for your photography business. 
In addition to protective insurance, Full Frame strives to provide the best resources for our photographers. If you're looking to build a portfolio website, a website to house client galleries, or a platform for purchasing photos, look no further than Pixpa. Designed to provide professional photographers with a way to create websites that support their businesses, Pixpa allows photographers to create websites that match their businesses at an affordable price. If you need help designing your website, they even provide professional designers to help you out. Check out Pixpa and take your business to the next level.