Buying new gear or using your favorite gadgets is a part of the job. The downside? Those things come with a huge price tag, but it's worth the investment and can help you capture a certain level of quality. Functioning camera gear is what makes doing your job possible. As long as it is in your possession, you can book jobs and work with many clients throughout the year. Whether you are busy during a certain season or you book jobs every weekend, carrying camera insurance is a necessity for every photographer.
Fit For Your Needs
Maybe you're thinking, "I'll be really careful and make sure my gear is safe from harm." First of all, it's proactive and it's always important to have a plan. We know you care about your gear! You might have spent hours researching the best things to buy or are waiting for the right deals to come along before you purchase your items.
When it comes to your livelihood, you want to protect it and being extra careful may not cut it. That's why you need to make sure you have a safety net in place. Camera insurance from FFI isn't a one-size-fits-all solution. You can choose which limits work for you and set your price from there. Coverage starts at $55/per year with an annual policy.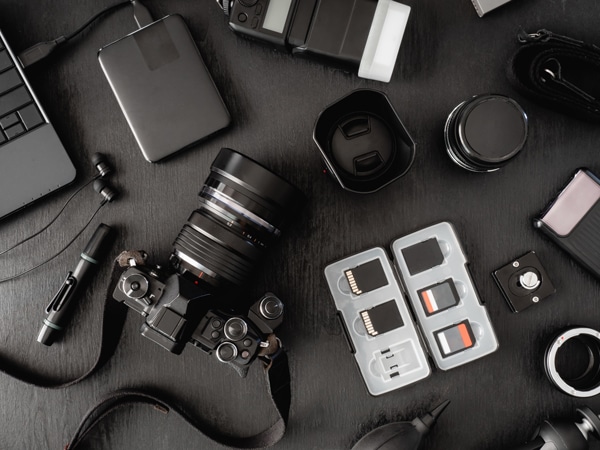 Peace of Mind
Consider all the gear you take to one photoshoot. This could be anything like your camera lenses, lighting equipment, camera body, camera bag, and more. When you think about it, gear plays a huge role in your business and makes it possible for you to do your job. Imagine if you were missing an essential item or you were forced to turn down a job because of gear damage. For many small business owners, it's really hard to handle unexpected replacement expenses and may take them months to afford one.
Camera insurance gives you peace of mind knowing that you're a proactive business owner who cares about protecting your investments. If something were to happen, you've set up the proper precautions to handle these situations and can move forward with a plan. With Full Frame, we have licensed insurance agents readily available to help you through the claims process and give you any additional information about how the policy would respond.
Cover Your Business All In One Place
Protecting your business doesn't need to be complicated. You can easily manage your business insurance policy and camera insurance policy all in one place. We offer camera insurance as an add-on to our annual policy. It includes the following:
General Liability: You work closely with people on the job and not everything will always go according to plan. General liability is designed to cover lawsuit expenses you are legally responsible for.
Personal and Advertising Injury: This coverage protects against claims of stolen ideas, invasion of privacy, libel, slander and copyright infringement related to advertising.
Damage to Premises Rented to You Limit (Any One Premises): Renting a studio or venue helps you set the scene. Property damage is a real risk and this coverage is designed to cover any losses, such as a fire.
Medical Expense Limit (Any One Person): Client injuries can be stressful to deal with on the job and you're more than likely to be stuck with their medical bill. This coverage can help with covered expenses.
Our annual policy starts at $129 and you can include camera insurance starting at $55. We recommend estimating how much your gear is worth. From there, it will give you a better idea of which limit is doable for you and what you are comfortable with. We cover up to $15,000 per item.
The Full Frame Difference
We created camera insurance for photographers and videographers in every business stage. Whether you are a relatively new photographer trying to make a name for yourself or you are an established creative in your area, FFI is here to help you easily protect your endeavor. While other insurance companies expect a lot of your time to get a policy started, we believe that insurance should be made easy.
How We Stand Out
Online Insurance Application: It takes less than 10 minutes to fill out and you'll get proof of insurance after checkout.
Online Management: Need to file a claim or increase your limits? These things can be done through your customized online dashboard.
Customizable Policy: Pay for what you need and nothing more. Our application includes add-ons, such as professional liability. This can be added later via your customized online dashboard or while you are filling out the application.
Backed By a Team of Professionals: Have a question? Our licensed insurance agents are readily available to answer your questions via chat, phone, or email.
Build Your Business With Camera Insurance
While most of your focus is on building your business and booking shoots, protecting your assets is just as important. Camera equipment damage is a real risk every photographer and videographer faces on the job. We hope it is something you never have to face, but it's not a guarantee. There are many things outside of your control and that's why it is essential to protect what you have.
You can tailor camera insurance coverage to match what fits your business, gain peace of mind knowing the gear has a safety net, and protect your hard work all in one place. Managing insurance doesn't have to be complicated and that's why we simplified the process to match your lifestyle. Everything can be done online and we'll be available if you have any questions.
Learn More About Camera Insurance