Starting a photography business is an exciting opportunity. You have the freedom to be your own boss, tap into your creativity, and capture exciting moments for your clients.
One job could take you to a studio photographing family portraits and the next job could take you to an outdoor wedding. Each session is different and that is one of the things that make your job great. As a photographer, you want your clients to be comfortable and do your very best to ensure each session goes as smoothly as possible.
Have you thought about ways to eliminate risk for your business? One thing that can help is Insurance For Photographers. You may be wondering if insurance is necessary and it definitely is!
It's great to do what you can to make sure things run well during each session. However, you can't account for outside variables far from your control, though. Accidents happen and it's important to have coverage in place.
1. Your Photography Business Needs A Financial Safety Net
As a photographer, you've taken the time to research the best equipment, editing software, lenses, and more. Investing in the right tools makes your photography business possible in the first place!
Having coverage in place gives you a financial safety net if things went wrong during a session. Our Insurance For Photographers policy includes general liability. This coverage is designed to respond to third-party bodily injury and property damage claims you are legally liable for.
Let's say you are photographing a wedding ceremony in a beautiful cathedral. You arrive early to set up and get things ready, but oh no! The groom trips over your lighting storage box and dislocates his knee. Stress and embarrassment don't even begin to cover the range of emotions you could feel in that situation.
After the groom's stay in the hospital, you could be hit with a lawsuit and blamed for their loss of income due to recovery. A lawsuit like this can cost thousands of dollars and be detrimental to your small business. That's where liability insurance comes in. Our general liability policy has a $2M limit that can be used for legal expenses for covered claims.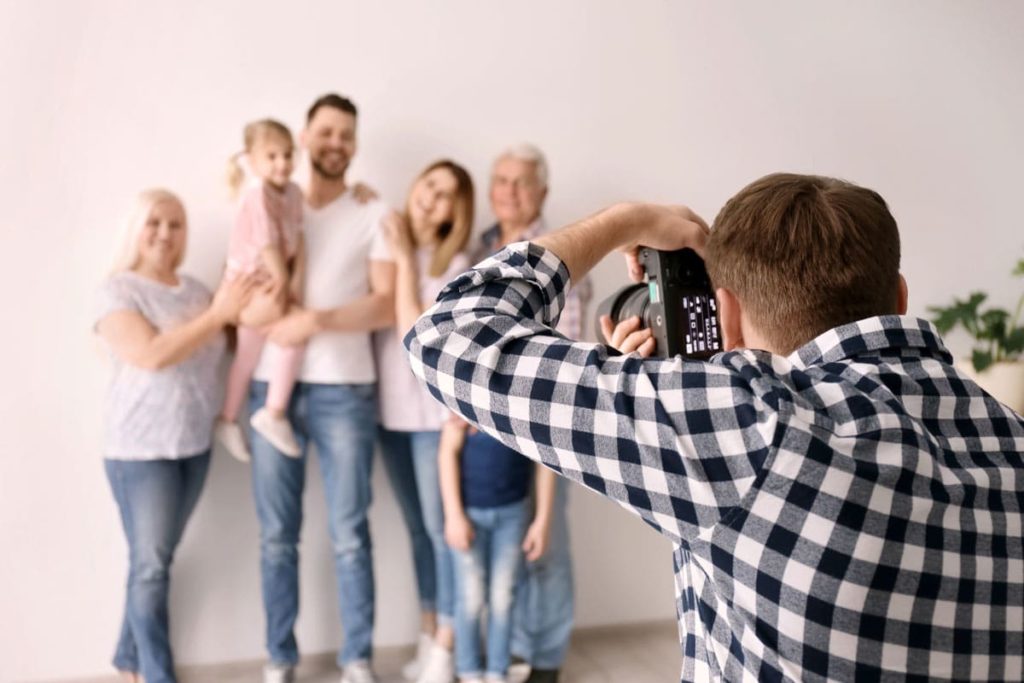 2. Insurance Is A Trust Signal
Whether potential clients are looking for a photographer to capture a special occasion or take their annual family photos, chances are they are considering several photographers in the area. Price, photography style, and editing are just the tip of the iceberg when it comes to choosing the right photographer for them.
The most important thing that clients want from a photographer is to work with someone they can trust. Carrying photographers' insurance boosts your credibility and shows potential clients that you take your job seriously.
We offer an insurance badge that can be featured on your website, business cards, and social media profiles. With insurance, you could edge out photographers who choose to run their business without coverage and stand out.
Give Your Clients Peace of Mind
Carrying insurance definitely starts the conversation between you and your potential clients about safety on the job. It gives you a chance to pitch yourself and explain the benefits of working with an insured photographer.
If your client is planning on getting married at their dream venue in the spring, you can let them know that working with an insured photographer means no roadblocks with the venue owner. Many venue owners require photographers to carry liability insurance and won't allow photographers to work on-site without it. You can explain to your client that it's common for owners to ask to be added as an additional insured.
The last thing they want is to find out that their uninsured photographer can't take wedding photos at the venue. By having photographers insurance, you are able to do your part to make sure things go smoothly and the bride can focus on her special day.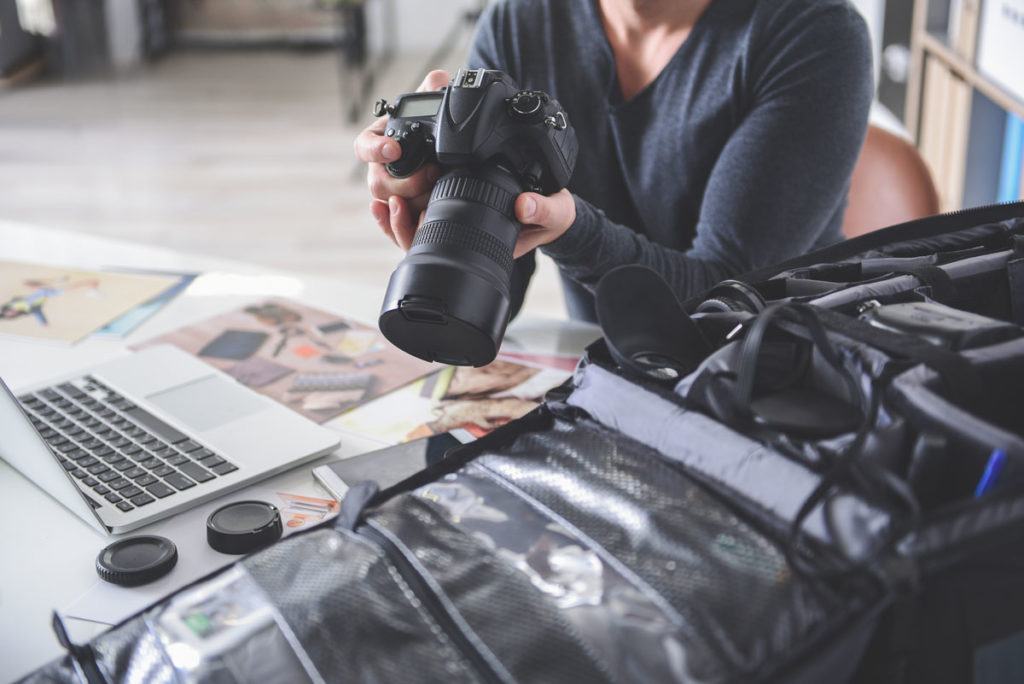 3. Insurance for Photographers Can Cover Your Equipment
Photographers tend to carry a lot of equipment. It's all part of the job! Some of your gear might be investment pieces and it's important to keep them protected.
Let's say you're capturing a beach wedding and your lenses get damaged. Do you have the means to replace them before your next session? If not, you may be out of luck and won't be able to perform your job for the time being.
It can be hard to think about the idea of your gear being stolen or damaged. The important thing is how you prepare yourself for those possibilities. The cost to fix or replace those items could range from hundreds to thousands of dollars. Unexpected expenses can be especially straining for small business owners.
At Full Frame, we offer our annual policyholders the option to include Photography Equipment Insurance in their policy.
One great benefit of choosing our Insurance For Photographers policy is that we offer a few types of coverage options. We don't believe one size fits all. Every business has different equipment coverage needs, after all.
Gear coverage with Full Frame starts at just $55 a year which covers $1,000 per item and a $5,000 aggregate (the most your policy will pay).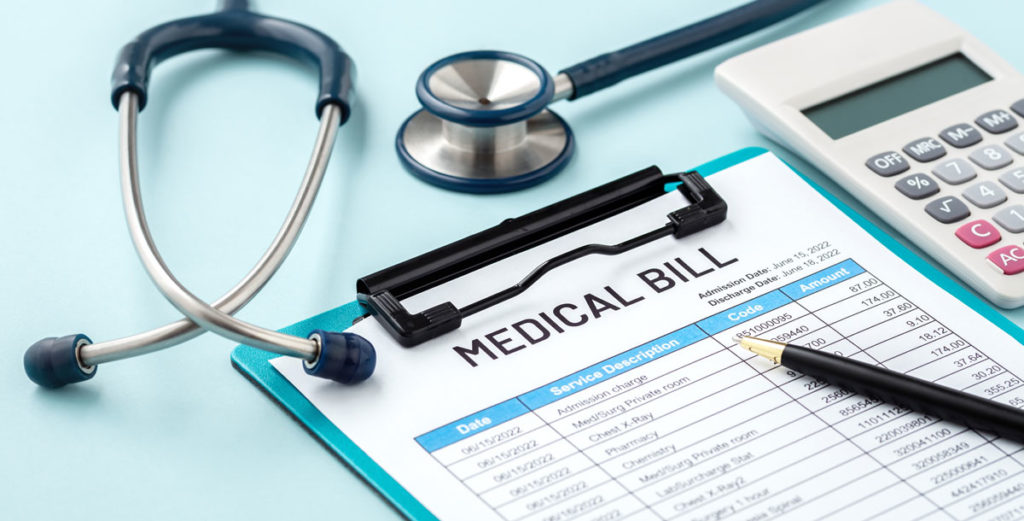 4. Client Injury… How Insurance Protects You
If a client gets injured and requires a hospital stay, Full Frame Insurance can pay up to $5,000 of the medical expenses. So if your client's medical bills are only $3,000 and that's all paid for, they may be satisfied and decide not to take any legal action.
However, if your client is seriously injured and takes you to court then your general liability coverage may pay for your legal fees plus any other medical fees and damages that you are found liable for.
5. Photography Studio Rentals
With pop-up photography studios currently trending in the photography world, there's nothing like shooting in a great studio. You can control the lighting, backdrops, colors, etc. However, if you, a member of your team, or even your model damages the studio or its contents, the damage to the premises rented to you coverage in your insurance policy from Full Frame can help.
You can get general liability coverage and camera equipment insurance from different insurance companies but purchasing these policies from the same place is more convenient and makes more sense fiscally. In some instances, buying both of these policies together from Full Frame Insurance is cheaper than buying camera equipment coverage alone from other companies.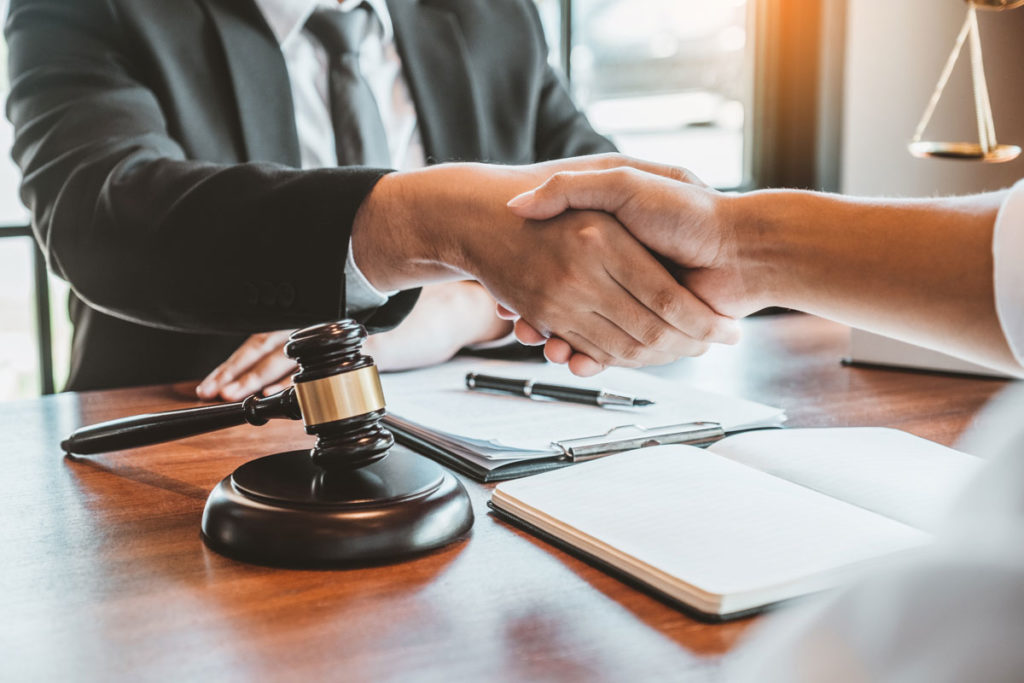 6. What Are The Expensive Costs of Claims?
Oftentimes you may hear about the expensive costs of claims and that can be confusing. So here is a breakdown of what kind of costs you could expect from a claim.
According to the American Bar Association (ABA), an attorney can charge anywhere between $343–$727 per hour. Photographer liability insurance can protect your business from financial hiccups and may cover your attorney fees for covered claims. As a professional photographer, you interact with people during every session and work hard to make sure every shoot goes smoothly. Unfortunately, one incident could lead to legal action against you and you will need the proper protection.
Here are some litigation costs that, without coverage, you could be required to pay out of pocket:
Court filing and processing fees

Litigation expenses

Damages to the plaintiff

Hiring experts in the industry

If out of state, travel expenses for yourself and the legal team
We hope every photography session goes well with your clients. However, our reality is that accidents can and do happen.
For example, you might ask your client to pose a certain way for a photo and they could trip over themselves resulting in them breaking their ankle on the scene. They'll probably want you to pay for their medical bills because your direction caused the incident. Without photographer insurance, you could be paying the entire medical expense out of pocket.
No matter how careful you are, there is an ever-present risk of a client sustaining an injury and asking for financial compensation for their medical bills. If a client does sustain an injury, photographer insurance may give you and your client financial peace of mind.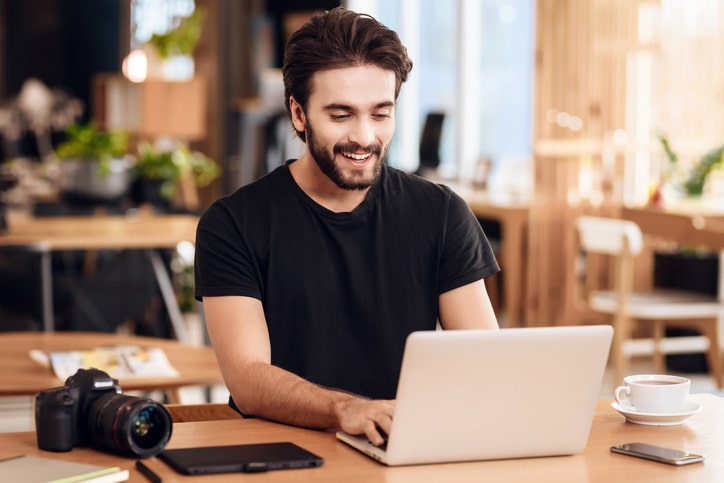 Now that you know just how beneficial photographer insurance can be for your business, here is how you can protect your photography business with photographers insurance. 
Click here to start your insurance application to receive your quote and purchase your insurance policy. 
Our policies start at $129 per year for annual coverage and $59 for three days of event coverage. 
If you have any questions at all, please reach out, our USA-based and licensed agents are available to answer any questions you may have.