As a professional photographer, you are lucky enough to get a glimpse into life's most beautiful moments and capture it so your clients can remember it forever. In a perfect world, you wouldn't have to worry about your camera breaking, a faulty memory card, or breaches of contract. However, the world of business is far from perfect but there are several steps you can take to protect your business. This includes protecting your business with photography insurance.   
So, before you start your photography business, add new clients, or attend any photography conventions, let's dive into what photography insurance is, what it includes, how it can help you, and what the most important insurance is for photographers. 
Keep reading to learn what the most important insurance for photographers is and get all your photography insurance questions answered. We even have some bonus questions about the cost of photography insurance and how easy it is to file an insurance claim.
What Insurance Do I Need To Operate My Photography Business?
Professional photographers should have general liability insurance, professional liability insurance, and camera equipment insurance. 
All photographers should carry a general liability policy for the length of time they will be operating. That is, if you are only covering a short event, a short-term liability policy might be ideal. If you conduct several photography or videography sessions throughout the year, an annual policy would be the most cost-effective policy to buy.
If you want to cover your equipment, you should purchase additional equipment insurance that will cover the cost of the equipment should it become lost or damaged.
General Liability Insurance can protect photographers from third-party bodily injury and property damage claims. General liability claims are the most common and can include a client getting injured while on a shoot. 
Professional Liability Insurance can give you that professional edge you've been looking for. Professional liability insurance can protect you from claims that include a faulty memory card that never saved any photos from the photoshoot. It can also include contract breaches from both parties. 
Inland Marine Insurance can not only help protect your business equipment but your peace of mind as well. Also known as camera equipment insurance, Inland Marine can help repair or replace your camera equipment in case it is ever damaged or stolen (gear that is unattended and stolen is not covered).
.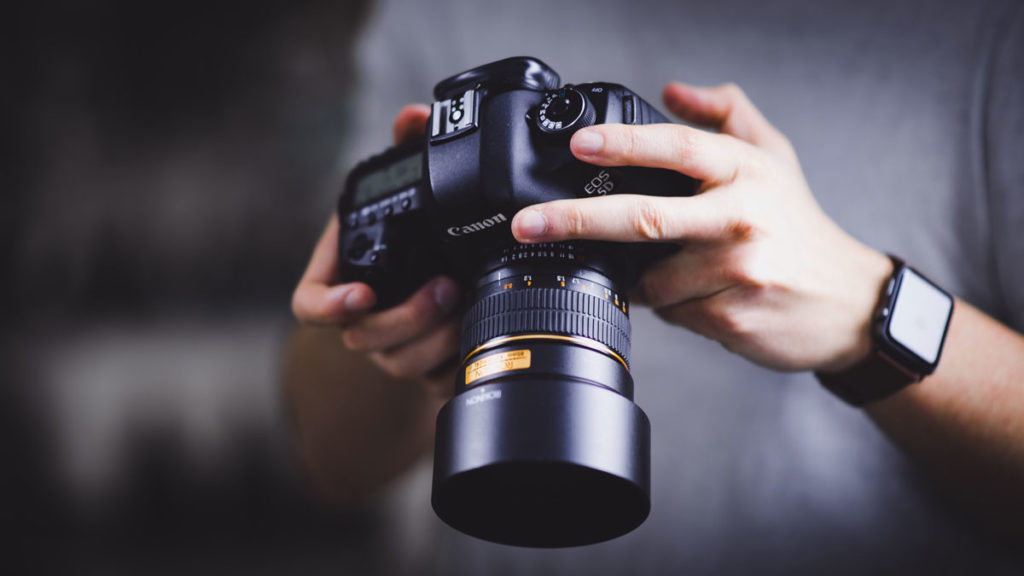 What Are My Dangers or Risks as a Photographer?
Your dangers and risks as a photographer can include:
Customer injury

Unsaved photos

Faulty equipment

Broken equipment 

Breached contracts 
After reading these risks, you might be thinking that you're a careful person and are never negligent, therefore you don't need to protect yourself against a lawsuit, because, hey, that will never happen, right?
What you can't count on, though, is the behavior of others, adverse weather events, or unintentional accidents happening.
To assess how much liability insurance you should carry, consider the following:
If I lost my source of income from my photography or videography business due to an adverse weather event, how much would I need to cover my bills?

If I end up in court, can I pay my legal expenses to defend myself, even if I am not at fault?

If I am found to be at fault, could I cover the expenses arising from a bodily injury claim, libel claim, or property damage claim?

Do I travel to multiple places and will I need inland marine coverage while my equipment is being transported?
Consider your answers to these questions and let your answers decide how great your need is for insurance. It could help save you money and even save your business. Dangers of not having photography insurance can include property damage claims, bodily injury claims, and equipment damages and theft. 
Photography insurance can help mitigate or even eliminate the out-of-pocket cost of those claims. These claims costs –attorney fees, medical fees, equipment replacement– could cost you thousands of dollars. Avoid that stress with photographers insurance. 
Now that we've evaluated your risks as a professional photographer let's move on to one of the most important coverages you can add to protect your business: Camera Equipment Insurance.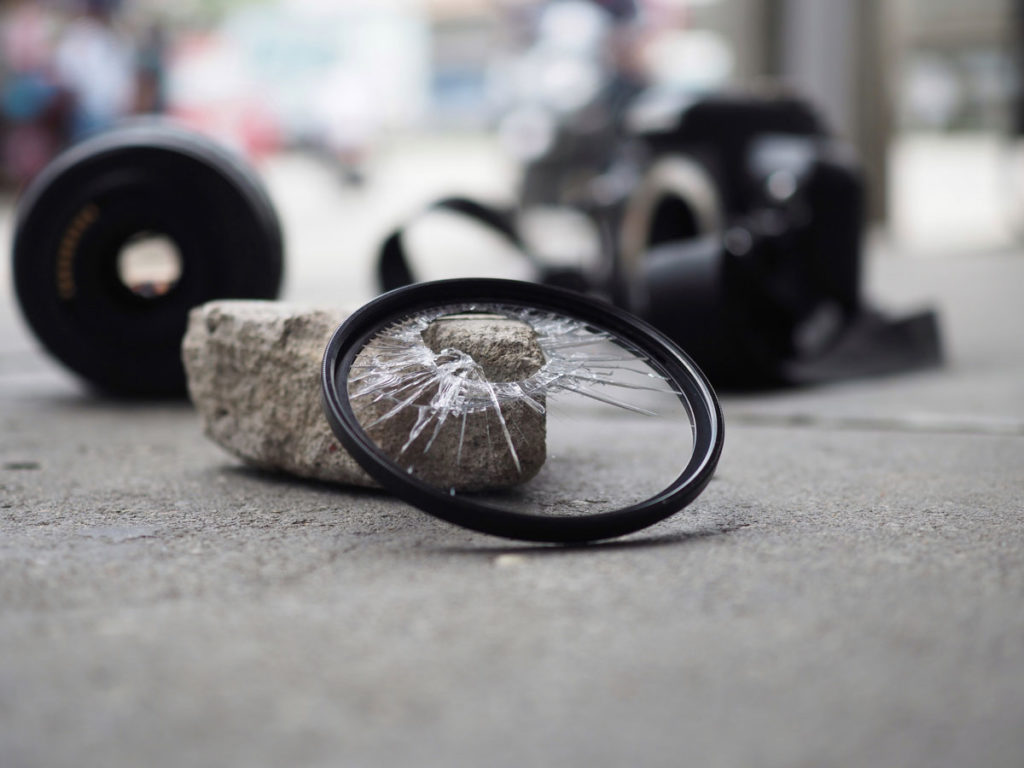 Do I Really Need Camera Insurance?
It depends. If you have enough money to replace your camera gear, should you ever need to, then you can be self-insured. For most photographers, a loss of thousands of dollars in equipment can hurt their business. If you're in this boat, camera insurance is for you!
At Full Frame Insurance, we're of the mind that every photographer needs camera insurance. Whether you freelance on the weekends or you run a full-time photography business, your equipment is at risk of being damaged or stolen.
You may face something like this on the job…
While at an outdoor shoot, an unexpected storm blows in and as you're running to shelter, your camera battery is exposed to the rain and is damaged. The water has completely ruined the inside of your camera and made it unusable. 
No matter how careful you think you are, just one slip-up could cost you a great deal of money. The possibility of an accident happening is always present and you need the protection camera insurance provides.
Does My Homeowners Insurance Policy Cover My Camera Gear?
Not usually. It depends on your homeowner policy and if it extends coverage for a home-based business. You shouldn't count on your homeowner's insurance policy to cover your camera gear. Even if you don't use your camera gear for a full-time photography business, making claims on your homeowner's policy may lead to a cancellation. In order to keep your homeowner's insurance policy in the clear, you should consider purchasing a separate camera equipment insurance policy.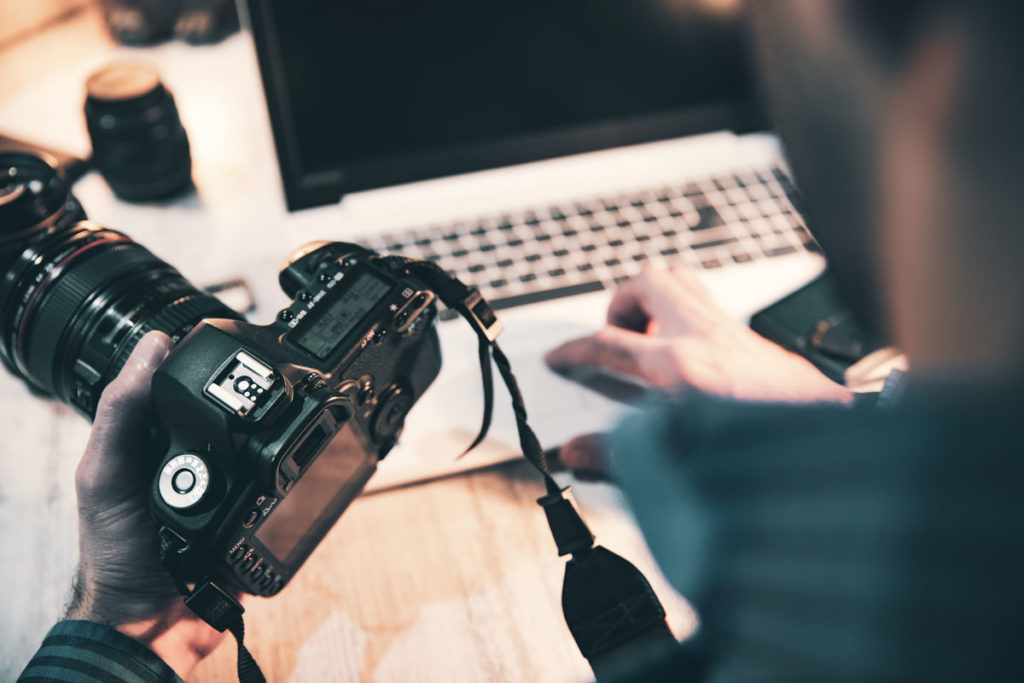 If Something Happens To My Equipment, How Do I File A Claim?
Filing a claim on your camera insurance policy is easily done in just three steps:
Compile the paperwork:

Get together your coverage details and insurance information. Full Frame will need the who, what, when, where, and how of the situation to file the claim. That means you'll want to make sure to include in your report the people that were involved, whether they were clients or not, a description of the incident, and what was damaged.

Fill out the claim form:

With us, you can file a claim online and input all the necessary information such as your basic info and details about the incident. To file a claim all you will have to do is sign in to your user dashboard and fill out the necessary information. One of our USA-based and licensed agents will reach out to you to help with the claims process. 

Wait it out:

Once we receive the claim, it's sent to the carrier to be processed. They require about 7-10 business days to assign a claims adjuster who will then call you to hash out any other details.
Once you've done all this, here's what happens: insurance will cover the cost of the claim or the claim is closed and your client gets paid, or depending on the situation the next step may be going to court. With Full Frame, we strive to make what could be a stressful process, easy and breezy. 
Is Camera Insurance Worth the Cost?
Yes! If something tragic were to happen to your gear, it could cost you thousands of dollars to replace it. Camera insurance starts at just $55 on top of your annual photography insurance policy, and if you're looking for more than just basic coverage, we offer higher coverage limits that could fit your needs. The bottom line is, with Full Frame you don't have to worry about overpaying for coverage.
Give yourself peace of mind and give your gear the protection it deserves with proper camera insurance.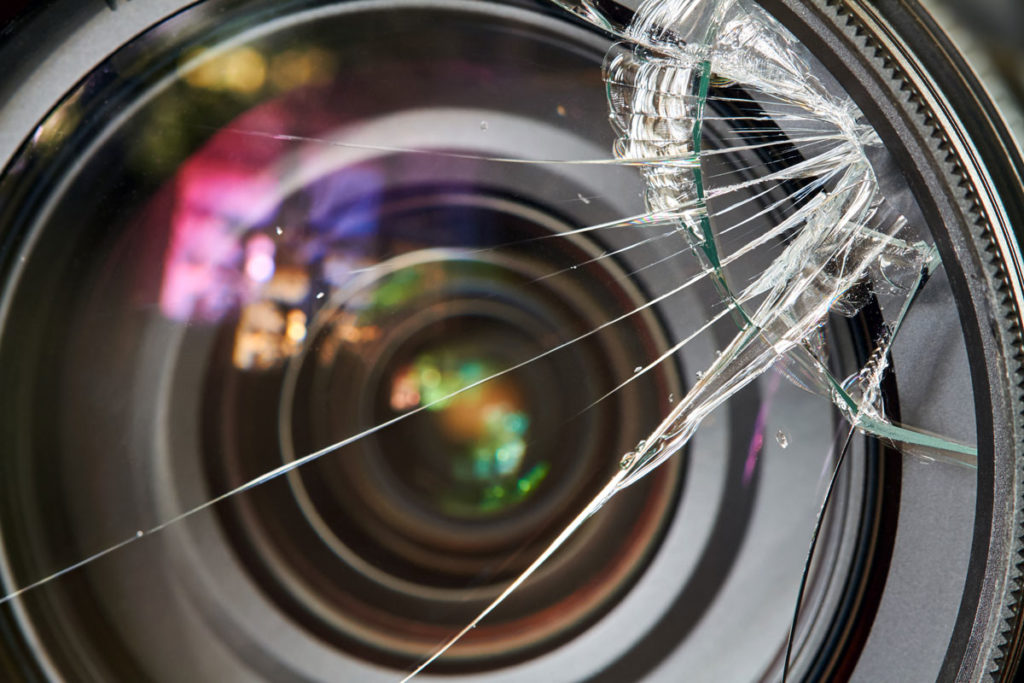 What You Need To Know Before You Buy
When considering photography insurance, here are a few things you should understand before you buy. Read the following descriptions and, if it sounds like each specific coverage type applies or might apply to your business, make sure your policy includes it.
General Liability Insurance
General liability insurance can protect you from some serious claims that photographers face. People consistently take photographers to court for taking a photo of them in public without a proper photo release or permission and then using it in advertisements or art. If you are in that position, your insurance may cover your legal fees and any damages you may have to pay for.
Products-Completed Operations Insurance
This important aspect of photography liability insurance covers you for risks that stem for your products or business operations that happen away from your premises once those operations have been completed or abandoned.
An example of a claim like this could include a client who is injured as a result of your business property. 
Damage to Premises Rented to You Insurance
This coverage applies to professional photographers who rent out a studio or a location in order to film videos or take photos. If you, a member of your team, or even your model damages the studio or its contents, your damage to premises rented to you coverage in your insurance policy may pick up the tab. This could save you from what could be a crippling expense.
Personal and Advertising Injury Insurance
This part of liability insurance is for coverage against claims that may have damaged a person other than physically. This is especially helpful for photographers because claims can be brought against you because of your pictures. If someone feels like you stole their idea or damaged their reputation or public image, you may need protection from lawsuits.
The following is a basic list of claims that your personal and advertising injury insurance may protect you from:
Libel

Slander

Invasion of privacy

Copyright infringement

Misappropriation of advertising ideas
Can I Purchase and Manage My Policy Online?
It's worth taking a look at how your insurance company operates. Sometimes you need insurance or proof of insurance documents after business hours. Can you quickly go online and purchase a policy with no hassle? Are your documents accessible even when the company isn't open?
To answer your question, yes, you can purchase your insurance policy online. At Full Frame, we aspire to make your photography insurance easier than saying "cheese!". So, we offer policies that can be bought completely online. Through your user dashboard, you can view and download your insurance documents and easily add any additional insureds you may have.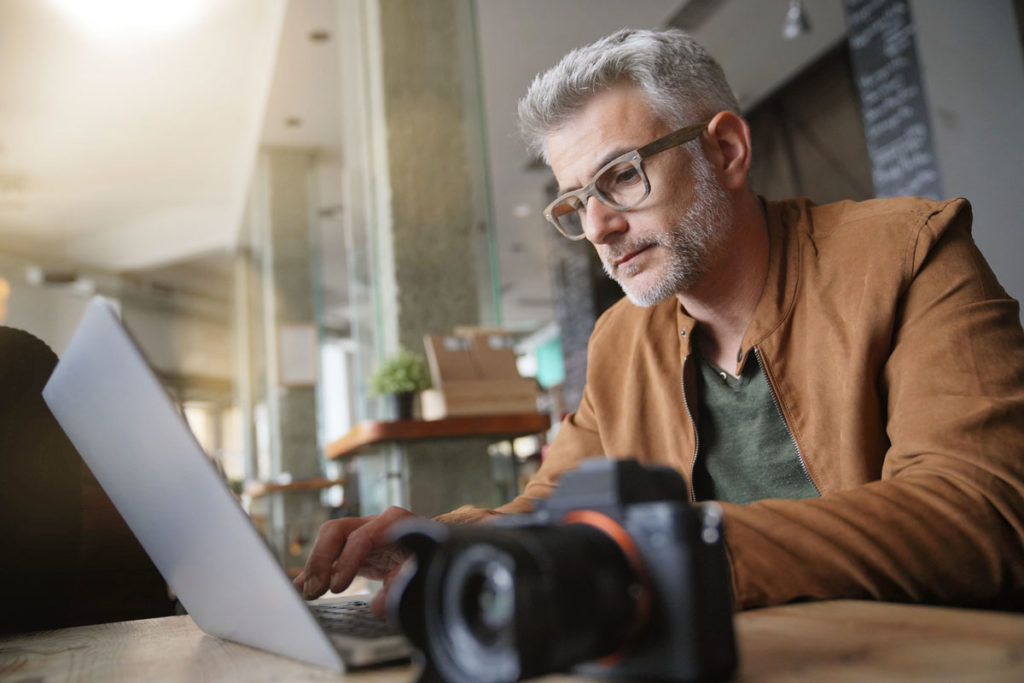 So, What Is The Most Important Insurance For Photographers?
The most basic and critical coverage type for photographers to have is general liability insurance. This is true for any small business. 
But, as you can surely tell, general liability coverage is just the tip of the iceberg when it comes to small business insurance. To ensure you're fully protected, you'll want to make certain to select a policy that includes a more comprehensive array of coverage options, such as products-completed operations, damage to premises rented to you, personal and advertising injury, as well as camera gear insurance. 
At Full Frame Insurance, we offer coverage that includes each of these options, so you can run your photography business with peace of mind. 
Get started today and protect your business with Full Frame!