Preparation plays a huge role in your business. You need to ensure that you're carrying the right tools, such as lenses, reflectors, backdrops and equipment to capture those picture-perfect shots. You know this is an important aspect of your business and you're completely prepared—or are you? Have you also considered how you are going to protect yourself from accidents and protect the business you've worked so hard to build? There are so many insurance options and coverages available, we're here to guide you through it. Today, we will break down five essential types of insurance for photographers to give you a better idea of what you need and how it could help.
1. General Liability Insurance
Every business owner dreads facing a lawsuit. Sure, you think every detail is taken care of and that your customers will be happy with your services; however, sometimes things get overlooked, or maybe they are simply out of your control. Mistakes can happen to anyone.
A client could severely injure themselves during a photo session and head to the emergency room. Medical expenses can add up fast, their recovery could take weeks to months, and they may not be able to work. These are all reasons photographers have had clients pursue legal action against them. General liability insurance gives you a safety net and is designed to help cover costs you are legally liable to pay for. Look for insurance for photographers that offers general liability coverage.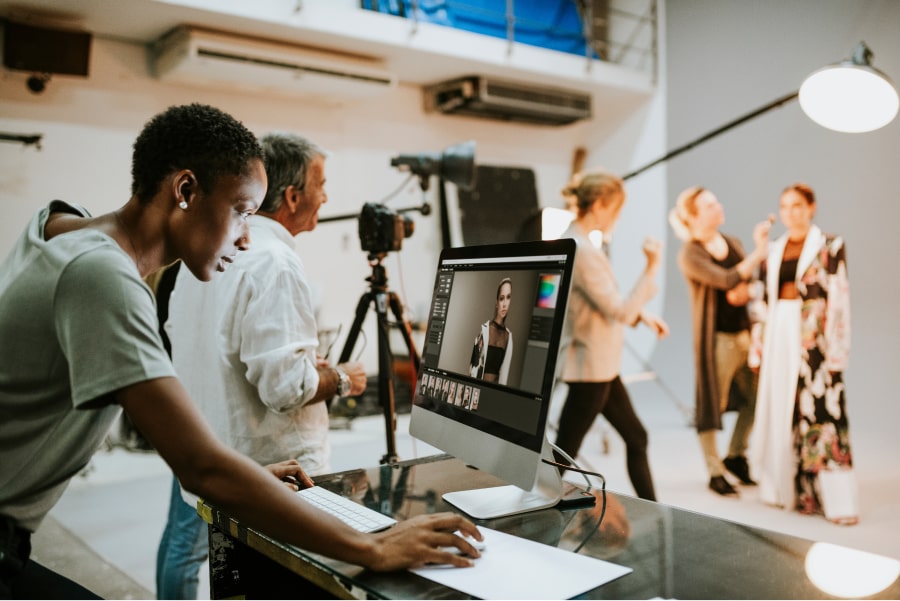 2. Camera Insurance
Your tripod, lighting tools, lenses, and camera body make it possible for you to keep your business running smoothly. Each item plays an important role in capturing the perfect shot. Indeed, you've likely spent a substantial amount of money on these items. One thing you can do to protect this huge investment is including camera insurance in your business plan.
With Full Frame, camera equipment insurance is an easy add-on that expands coverage to your business equipment. Your gear goes to different venues, studios, and on-site locations. There's always the possibility of damage along the way. Insurance for photographers can be a safety net for your equipment and business. We offer coverage starting at $55/year and that covers $1,000 per item with a $5,000 aggregate—the most your policy will pay within the year. If you would like more coverage, we offer the option to increase coverage up to $15,000 per item. Learn more about our camera insurance options here.
3. Medical Expense Coverage
You want to maintain a positive and professional relationship with each of your clients. Their happiness with your service keeps them coming back to you for their photography needs in the future. Our insurance for photographers covers lawsuits, but that doesn't mean every accident will lead to a legal battle. A client could sustain a minor injury from where or how you ask them to pose. Medical expense coverage covers up to $5,000 in medical-related expenses.
4. Damage To Premises Rented
Renting a studio is a great way to be in control of your setting. The backdrop, lighting, and space to set up is readily available. There's no need to worry about the outdoor elements, such as the sun, wind, or rain ruining your photoshoot.
A faulty wire or your equipment falling over could cause damage to the studio you rented. Damage to premises rented is an important insurance coverage for photographers. The biggest risk photographers face is causing property damage, such as a fire. We offer a $300,000 limit for damage sustained.
5. Additional Insureds
When you work with venue owners, they will often require that you add them as an additional insured on your policy. It's a common business practice among venue owners because accidents can happen during busy events.
Photographers are at fault in some cases and clients will want to pursue legal action. In order to get more money, they may include the venue owner as well and your liability policy can help. Your insurance can cover them if the venue owner isn't at fault. With us, you can add additional insureds to your annual or event policy for a small additional fee. Our online dashboard makes it easy to include additional insureds to your policy.
Wrap Up
Building up your business consists of many things, such as purchasing the right tools, attracting customers, and delivering quality photographs to your clients. Each of these plays an important role and takes a lot of focus. Insurance for photographers provides a safety net to protect your assets and can respond to incidents you may face on the job. We know preparing for the unexpected isn't ideal, but having coverage is an important part in your business. If you have additional questions about it, feel free to reach out to one of our licensed agents!
Learn more about insurance for photographers